Focused on the Present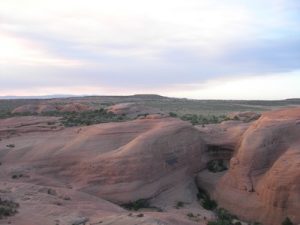 During your mental health care, have you often felt hopeful about your chance of getting better?
I have a strong sense of "survival" and belief system of patience and persistence that comes from heritage of immigrant peasants out of eastern Europe. The bad side of that is assuming that one must pull up by the bootstraps. That can be demoralizing. So I have learned through cognitive therapy that a balanced view is best.
Has a mental health provider ever told you that you could reach a personal goal despite your psychiatric diagnosis (for example, education, career, independent housing, relationship, children, etc.)?
I have had a provider say that I could have whatever I wanted. Although I thought this was a bit "grandiose" on her part, I did appreciate it was meant to be encouraging
If you overcame hopelessness that you could get better from a mental health or emotional problem, was there a turning point for you?

I can't say it was a clear "aha" moment but I definitely experienced greater awareness through expressive media and walking meditation. It helped clear my thoughts and apply cognitive therapy tools such as looking for balance and stop overfocusing on negative hopeless, helpless thinking and blaming.
Tell us what recovery means to you. How would you define recovery from mental health or emotional problems in your own words?
Recovery means being able to take a full easy breath over and over and over again. Being more focused on the present and not preoccupied with what others think about me or how they treat me. Living my life with confidence and acceptance such as using the tenets of the serenity prayer. Being able to love.
If you could send a brief message to someone receiving mental health care today who is feeling hopeless about getting better, what would you say?

Keep b r e a t h i n g; take one step at a time; open your heart to love.
Can you give examples showing you have gotten better from a mental or emotional problem, such as how you are doing well or accomplishing goals you have chosen?
I am employed in a job I feel good about, swimming almost every day, trusting and appreciating my family and friends.