Stronger Because of the Path that I've Walked
 Liz Teska; Asheville, NC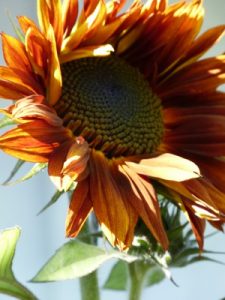 During your mental health care, have you often felt hopeful about your chance of getting better?
Yes. I have had two different phases of mental health care. One was for poor people and recently I got a scholarship at an amazing healing community. I got better in spite of the care at the free places. I got better because of the care at the community place.
Has a mental health provider ever told you that you could reach a personal goal despite your psychiatric diagnosis (for example, education, career, independent housing, relationship, children, etc.)?
Yes. The people at the healing community are very clear that my goals are within reach and they help to achieve them.
If you overcame hopelessness that you could get better from a mental health or emotional problem, was there a turning point for you? 
I study A Course in Miracles every day. That is invaluable. The healing community has also helped a lot. They helped me to see that my uniqueness is beautiful.
Tell us what recovery means to you. How would you define recovery from mental health or emotional problems in your own words?
Recovery is coming back stronger because of the path that I've walked. It's having gifts to give people who haven't had the challenges that I've had because I've learned so much. It's about learning to play the hand I've been dealt. It's being so aware of myself that balance is maintained. It's asking for help sometimes and providing help at other times. It's learning about interconnectedness and acceptance.
If you could send a brief message to someone receiving mental health care today who is feeling hopeless about getting better, what would you say?
This is in your hands more than you may think. I got better when I accepted responsibility for my situation – no matter what. I encourage you to separate out the blame but keep the responsibility. Also baby steps will take you anywhere you want to go. Also it's always good to breathe, but it's not always good to breathe ON PEOPLE.
Can you give examples showing you have gotten better from a mental or emotional problem, such as how you are doing well or accomplishing goals you have chosen?
I've graduated from three levels of care at the healing community. I've been able to connect with people that I previously would have run from. I have built a support system. I have less symptoms. I'm happier and hopeful about the future.